Film-maker
After taking part in C4's My Transsexual Summer in 2011, I co-created the My Genderation project, making 60+ short films, endorsed by the BBC, C4 and NHS (Choices & E-Learning). 
In 2016, I worked closely with TGEU (Transgender Europe), IGLYO (International LGBT Youth Organisation), Stonewall and Trans Iceland to create video content. Currently, I am working on a longer format documentary on non binary issues with my partner Owl and a small independent film crew, which will be released at the end of 2017. Film is my main form of activism, working in both fiction and non fiction. I am proud that many of my films have been used as a resource in education and businesses as well as doing the film festival circuit for many years.
---
A huge thank you to Feedspot who have named our channel Fox & Owl as one of the 'Top 100 Transgender Youtube Channels', it's an honour to be mentioned next to some big names in YouTube.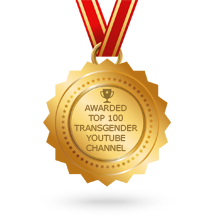 ---